Insanely dense, wonderfully curled, long as curtains.
What a woman would not want to have such eyelashes? Each of them dreams ...
Thanks to them their look acquires depth, clarity. What if nature has not endowed us such a treasure?
A modern woman is not left with no way out – she can acquire false eyelashes. When we think about fake eyelashes, we can immediately see, with our eyes of imagination, heavy, thick makeup, characteristic for the 40's or 60's. Recently, the false eyelashes in more natural form, have again become extremely fashionable. There are many products of this type available on market. It is enough to choose well.
Makeup trick
Fake eyelashes are necessary accessory, which can miraculously change the look. At one moment, the gaze becomes more attractive and sexy. In the 60s, no elegant woman could handle without this seductive "weapon". Now you also can find all kinds of the fake eyelashes, from classic to extravagant. Generally, we can divide them into two groups – strip and band lashes. Eyelash extension and thickening is today one of the most common beauty treatments.
New!!! Eyelashes Eylure
Do you know why the great movie stars have the wonderful glamour effect?
First of all, thanks to the long and thick eyelashes! Now everyone can have them. You also can. Treat yourself to excellent lashes Eylure if you lost your eyelashes as a result of an accident or a chemotherapy. With this simple trick, you regain self-confidence and self-esteem. False eyelashes from Eylure appear in many types. You choose the length, density and degree of spin of eyelashes. You are putting them on at the end of doing makeup. You can use them many times. The result is always amazing – beautiful, long and thick eyelashes.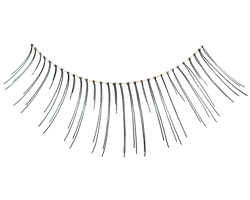 Care for eyelashes
The main task of eyebrows and eyelashes is the protection of our eyes from dust, dirt and pollutions. However, the purely aesthetic function cannot be overlooked – these are they, which  give your eyes depth and add charm. Therefore, we must properly care for them. First of all, one should remember about everyday makeup removal in order to prevent drying and weakning of eyelashes. You can strengthen them, using an old brush mascara with a little castor oil. Do it every night for two weeks, and the density and elasticity of your eyelashes should improve.